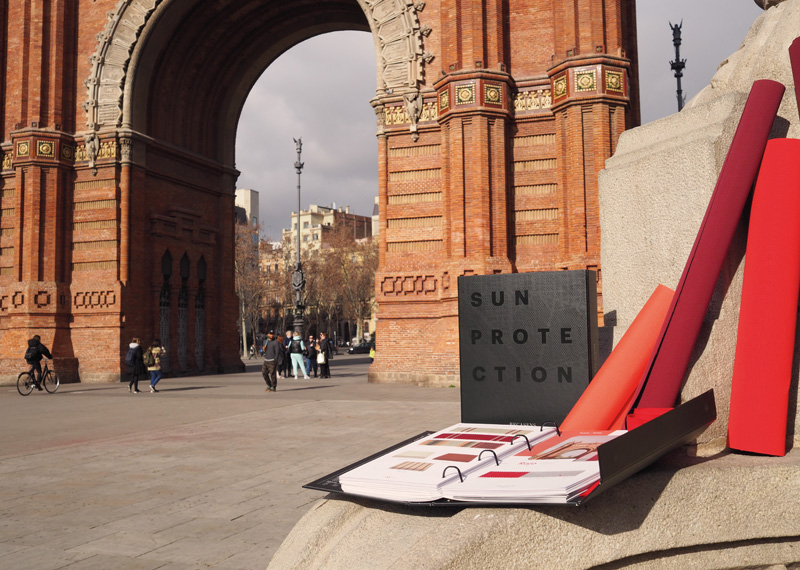 RECASENS fabrics allow you to enjoy terraces, patios and gardens, participating not only in the architecture and landscape itself, but also in its life, hustle and bustle. They are part of cities and contribute to giving life to their outdoor spaces.
Inspired by the vibrant and dynamic atmosphere of Barcelona, the new RECASENS SUN PROTECTION catalogue presents the latest trends in colour and textures, now applied to the awning sector.
All textile solutions for sun protection
The new RECASENS SUN PROTECTION catalogue is the definitive proposal for sun protection fabrics. You will find the textile solutions demanded by the market to optimise the effectiveness of sun protection systems, with all the detailed technical information that allows you to choose the most suitable fabric according to each project.
This catalogue has been designed to be a useful tool for professionals in the sun protection sector, helping them to detect the strong points of each of our fabrics and serving as an asset to explain to end users which fabric best suits their needs.
Download the catalogue
Discover a new aesthetic proposal of Recacril® (100% solution-dyed acrylic), RecScreen® (polyester screen fabrics) and Technical Textiles (high tenacity PVC-coated polyester) fabrics at www.sunprotectionrecasens.com, the microsite created to celebrate this very special launch.
In addition to being able to download the complete catalogue, you will be able to see how the city of Barcelona has inspired this new catalogue.
For additional information:
Sales Department:
Tel (+34) 93 200 27 00
cial@recasens.com
Follow us on social media:
Instagram: https://www.instagram.com/recasensfabrics/
Linkedin: www.linkedin.com/company/recasensfabrics
Facebook: https://www.facebook.com/RecasensFabrics