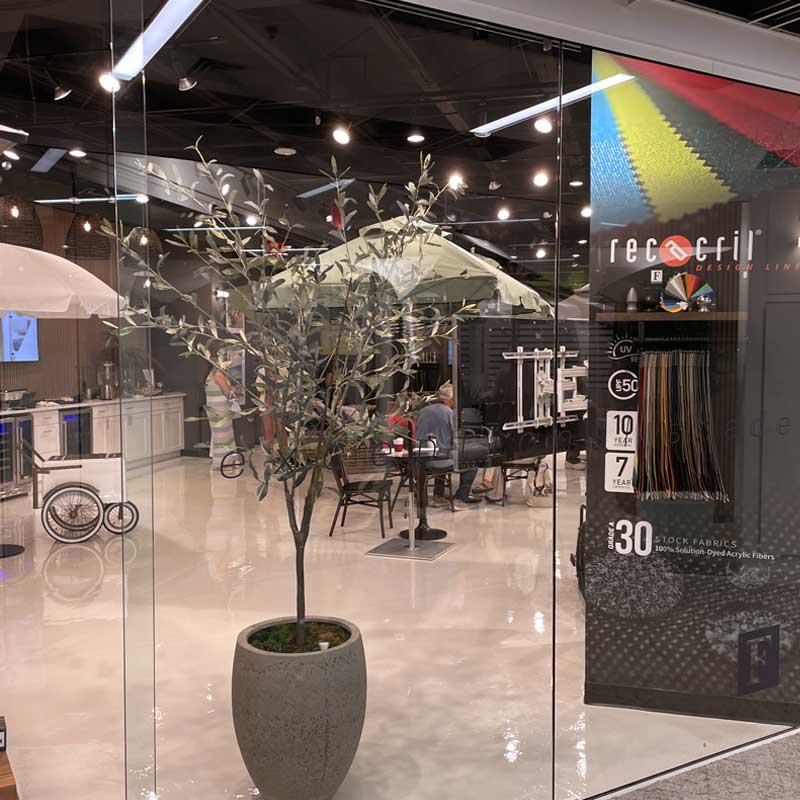 The Casual Market Atlanta trade show featured the impressive display of Recacril® fabrics in collaboration with our partner, Frankford Umbrellas, showcasing a captivating array of colors and textures for the 2023/2024 season in USA.
Casual Market Atlanta, a renowned four-day tradeshow, serves as a premier destination for retailers seeking all things related to outdoor and casual living. Attendees had the opportunity to witness the latest, most innovative products from leading manufacturers worldwide, unveiling the newest trends in color, product design, fabric patterns, and beyond.
With a rich history spanning over four decades, Casual Market has consistently presented the most comprehensive collection of outdoor furniture, trends, and accessories. It stands as the exclusive show in North America solely dedicated to the casual and outdoor furnishings industry, proudly endorsed by the International Casual Furnishings Association (ICFA). In 2023, the show made a significant transition from Chicago to its new home in Atlanta at AmericasMart in Downtown Atlanta.
At this remarkable event, we proudly showcasted our RECASENS sun protection fabrics for awnings and umbrellas. The audience was thrilled to witness the unveiling of our five new stocking fabrics, a testament to our commitment to innovation and quality.
Located at Showroom 2-D1 in Building 1 from July 10 to 13, our dedicated commercial team joined forces with Frankford Umbrellas to present the entire collection applied to their magnificent umbrellas. Recacril® fabrics, made from 100% solution-dyed acrylic fibre, proved to be the epitome of durability and color fastness, making them the perfect canvases for outdoor use and protection against the elements. Our products have garnered praise for their unmatched resilience and suitability for various outdoor applications.
The Casual Market Atlanta trade show proved to be a tremendous success, allowing us to share our cutting-edge fabrics with the world and establish our presence in the American market. We look forward to further showcasing our commitment to excellence and innovation in the outdoor fabric industry.
For further information:
Sales Department
Phone (+34) 93 200 27 00
export@recasens.com
Follow us on social media:
Instagram: https://www.instagram.com/recasensfabrics/
Linkedin: www.linkedin.com/company/recasensfabrics
Facebook: https://www.facebook.com/RecasensFabrics