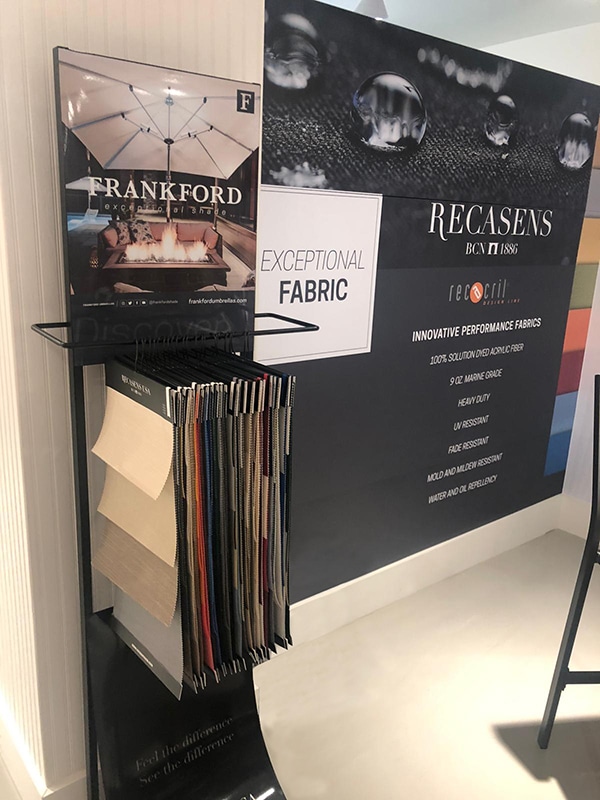 Recacril® fabrics were showcased at the Casual Market Chicago trade show, alongside with our partner Frankford Umbrellas, showing our novelties in color and textures for this 2022.
Casual Market Chicago is the leading trade show for the outdoor furniture industry, showcasing the latest trends in color, product design, fabric patterns and more, all under one roof.
This event has been the framework where the new collection of RECASENS sun protection fabrics for awnings and umbrellas have been presented for the first time in the American market.
In Showroom 15-085, from July 19 to 21, our commercial team accompanied Frankford Umbrellas to show the entire collection applied to its magnificent umbrellas. Recacril® 100% solution-dyed acrylic fabrics from RECASENS are the most resistant and suitable canvases for outdoor use, due to their high durability and color fastness to the elements.
For further information:
Sales Department
Phone (+34) 93 200 27 00
export@recasens.com
Follow us on social media:
Instagram: https://www.instagram.com/recasensfabrics/
Linkedin: www.linkedin.com/company/recasensfabrics
Facebook: https://www.facebook.com/RecasensFabrics